This year didn't start out how I'd planned. After Christmas, I was ready for new challenges, had my January sewing project (a corded petticoat) planned out, and was ready to start as soon as we got back to the Netherlands. We flew in on the 8th, and on the 11th, I was told I'd probably need to come back to the states, as it seemed my Grandfather, suddenly, was dying. So I flew back on the 13th, he died the morning of the 14th, and I spent the next two weeks in the states, visiting with family I hadn't seen in a long time, and some who I had just seen at our Christmas get together.
Obviously, I didn't bring any sewing projects back to the states, so I'm a little behind on the corded petticoat—though I did get pretty far into a new crochet project.
As I've sewn historic clothing, I've learned more about the cultures and eras from which I sew. One of those cultural practices regards mourning. I don't know much, but I do really like the idea of visible mourning. That a person should, for a specified amount of time, wear full mourning, and possibly half-mourning after that. The people they'd encounter would know they were grieving, and you could avoid the awkward answers to the simple "How's it going?" type questions (though I have no idea if Victorians asked those sorts of questions). The practice was also a reminder to the person in mourning that it was okay to not be okay. That this is something awful, and your entire being could reflect that.
Apart from the Jewish practice of Shiva, where you sit for seven days and reflect, and sort of let it sink in (which I also really like the idea of), most modern (Western) practices surrounding death are really rushed and truncated. Seeing everything that had to be done by both my grandfather's wife, and my dad and his brothers, meant they were kept hopping between planning a funeral and contacting everyone who needed to know—which included friends and family but also social security and the local paper and the lawyer, and the list went on and on and on. Between all that, there's not enough time to reflect, and then there's the funeral, where you sum up an 86 year life in an hour, and then it's done. And the world continues. But you're left with a 'what just happened??' feeling that is hard to communicate to others.
So I've been trying to find a way to mourn. A blogger I follow, Sarah with
Romantic History
actually wore mourning to her living history events for a summer when her grandfather died, and found a lot of value and comfort in doing so. I don't attend living history events, nor have a dress to turn in to mourning wear, so I thought of maybe wearing a black fabric or crocheted bracelet for a certain amount of time, or planting a tree, or maybe having a cord by my bed and every night tying a knot in it and thinking of a memory (I read about that somewhere), but I forgot what you were supposed to do with the cord when it was full of knots, and the last tree I planted died, and a bracelet didn't feel like enough. In the end, I decided on something a little different.
Remember the corded petticoat I mentioned at the beginning? I was planning on machine sewing it, to save loads of time, though I've kind-of always wanted to hand sew one. Now, I'm going to make the time for it. 86 rows of cording, one to celebrate and remember and cry over each year in the life of a wonderful man named Harry. 86 days of sewing. Each day, I will sew no more than one round. I won't watch TV while I sew (my usual hand sewing practice), but may listen to a podcast or music. I might not sew a round every day, as life does continue and some days other obligations will impose themselves.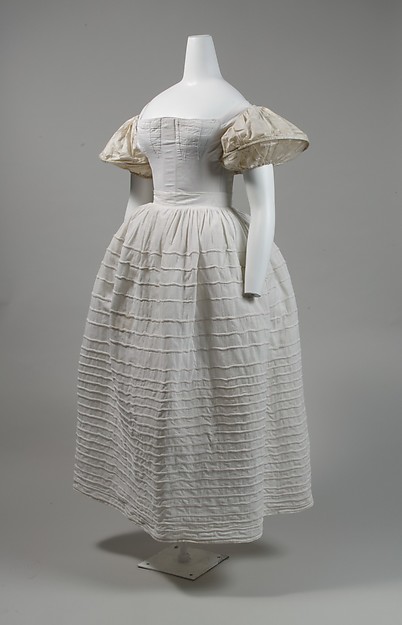 Though my mourning practice won't be visible like standard clothing, I hope it will provide the time to reflect that I'm desperately looking for, and in the end I will have something rather unique to keep and cherish and wear: a memorial petticoat.